Many other perfume bloggers, including Now Smell This, EauMG, and Scent Hive,  have already created wonderful perfume holiday gift guides. (If you are a perfume blogger with a wonderful gift guide that I have forgotten, please leave a comment with the link!) However, I have yet to see a perfume gift guide dedicated to the most important person on any holiday shopping list: your whiny, bratty inner five year old who is still deeply bitter about the fact that she was never given Felicity, the Colonial American Girl Doll. As you might imagine, the inner five year old doesn't understand why you have to buy presents for all of those other people. When are you going to buy her a present?
Freud would have called this force the id. Freud believed that if you repressed your id impulses too often, your conscious mind would eventually no longer be able to control them. In laymen's terms, one day you'll wake up with a purchase confirmation email for 18 Felicity dolls and the accompanying Colonial accessories. In the interest of helping you to avoid the American Girl Doll Company's somewhat strict return policies, I have created a list of 10 perfume gifts that will delight your inner five year old and hopefully keep her away from your credit card. Everything on this list can be purchased online, and only one item is above $100.
Atelier Cologne Orange Sanguine Discovery Set. This is a pretty incredible set. It includes a 1 oz bottle of Atelier's Orange Sanguine fragrance and samples of the entire Atelier line. Available at Neiman Marcus for $65.
Lolita Lempicka The Miniature Collection. Adorable 5 ml mini-bottles of the original Lolita Lempicka, L de Lolita Lempicka, Si de Lolita Lempicka, and Lolita Lempicka au Masculin. Available at Lolita Lempicka for $52.
Carol's Daughter An Almond Cookie Moment. Almond Cookie is a very good, very inexpensive almond scent. This set has the EDT, a body cleansing oil, and a body soufflé. Available at Carol's Daughter for $51.
elizabethW Sweet Tea San Francisco Luxury Set. At least one Southern stereotype is true: we freaking love sweet tea. This set includes a 0.5 oz Sweet Tea eau de parfum, a bath pouch and a soap bar. Available at ElizabethW for $45.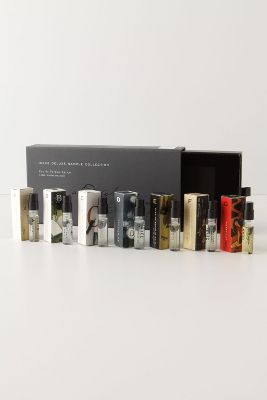 Ineke Deluxe Sample Collection. 0.05 oz samples of seven perfumes from the increasingly popuar Ineke line. Available at Ineke for $25, which can then be applied towards a full-bottle purchase!
Jo Malone Signature Set. Two 30 ml Jo Malone fragrances of your choice. Available at Jo Malone for $110.
La Maison de la Vanille 5-pack Sampler. Five 15 ml fragrances, including the tasty Vanille Noire du Mexique. Available at Luckyscent for $50.
Histoires de Parfum Minis. This line is highly praised in "Perfumes: The Guide". At only $36 for 0.46 ounces, I can finally afford to see what the hype is all about. Available at Anthropologie for $36.
Chanel No. 5 Intense Bath Oil. This body oil is decadent. It is glamorous. It is pink. Available at chanel.com for $85.
Tauer Perfumes Discovery Set. 1.5 ml samples of five Tauer Perfumes fragrances of your choice. I'll be buying this one myself. Available at tauerperfumes.com for $33.50.